Masks, bottles, packaging… Independently of their use, plastics contain multiple substances that are diffused in the environment.
Every year, more than 100 million tons of plastic waste are dumped in the nature. Today our oceans are invaded by plastics, more than 6 billion tons if accumulated. Indeed, whether on land or sea, this waste does not decompose. And worse it destroys our landscapes and humanities. Whether they are ingested or not, they fragment little by little until they become microplastics, or nanoplastics.
Behind the pollution visible to the eye, there is an invisible pollution, in fact microparticles are detached little by little and spread in the environment.
Our bodies are in contact with microplastics and chemicals in many ways. For example, a bottle of apple juice contains apple juice produced from apples watered with plastic microparticles. When we drink this juice, we drink both these particles, but also the substances that have diffused in the juice.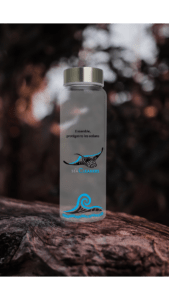 Concerned about the impact that its activities can have on the environment, we are committed to daily actions contributing to the preservation of the environment. This is why we are interested in The Sea Cleaners, an association aiming to develop preventive and curative solutions, both on land and at sea, to protect the oceans from plastic pollution.
It is through this committed glass bottle that we support The SeaCleaners. Firstly for the creation and launching of the Manta, but also for all the other initiatives of the association: awareness in schools, events or the organization of clean-up days (CleanUp Day).
Nous vous invitons à nous contacter pour toute demande concernant nos bouteilles :