1. The SeaCleaners: presentation
Founded in 2016 by yachtsman Yvan Bourgnon, its main objective is to develop preventive and curative solutions, on land and at sea, to protect the oceans from plastic pollution.
This objective is based on 4 main missions:
| | |
| --- | --- |
| Raising awareness and educating | Collecting on land and at sea |
| | |
| Conducting research on pollution and its impact on our environment and health | Enhancing the circular economy |
| | |
And it is through concrete projects that TSC (The SeaCleaners) leads its fight against plastic pollution.
Its most symbolic commitment is the construction of a giant catamaran: the Manta. This sorting factory boat will be able to collect, sort and recycle the waste recovered at sea.
2. Presentation of the Manta: "the giant of the seas"
The Manta is a colossal project. A giant catamaran of almost 63m in height, it is designed to collect, sort and above all recycle the waste recovered from the seas and oceans.
Collection: thanks to collection mats and 2 small boats specially designed for shallow or narrow areas, the waste is brought aboard the boat to be sorted.
Sorting: depending on the waste collected, it will either be reused on board or recycled on land. Waste that cannot be recycled will be stored on board in a 200m³ space.
Reuse: with the help of a waste-to-energy unit that converts waste into energy to power the boat (in part). Thanks to this system, 90% of the plastic waste can be managed directly at sea.
The launch of the Manta is planned for 2025. Its first voyages should take it to Southeast Asia, to the most polluted areas.
More about the Manta : https://www.theseacleaners.org/fr/manta-innovation/
3. Mistral Constructeur x The SeaCleaners: our commitment
Through our profession, we are directly concerned by the issues of illegal plastic waste. Indeed, this pollution also impacts drinking water, particularly because of micro plastics.
It was obvious for us to go even further in our commitment by supporting an association fighting for the preservation of the environment and, in this case, against plastic water pollution.
Furthermore, as an industrial company, the technological and innovative aspect of the Manta project won us over immediately. This giant catamaran will be a major ally in this monumental mission to clean up our oceans, seas and rivers.
We have therefore decided to further this commitment by supporting TSC through the sale of committed bottles, personalised with the association's colours.
Part of the profits from the sales will be donated to TSC. Firstly to support the manufacture and launch of the Manta, but also to support all the other actions implemented during the year: public awareness, organisation of clean-up days (CleanUp Day) or participation in events to raise public awareness.
You too can join The SeaCleaners movement by adopting this bottle committed to waste reduction.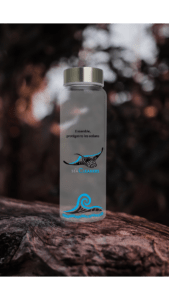 To order the bottle, contact us.
For more information, visit the SeaCleaners website.